We are a specialist in Human Resources policies and procedures, alongside data protection legislation.
Our outsourced Data Protection Officer service gives you confidence and peace of mind.
Business Driven, People Focused
Want to find out more about our services?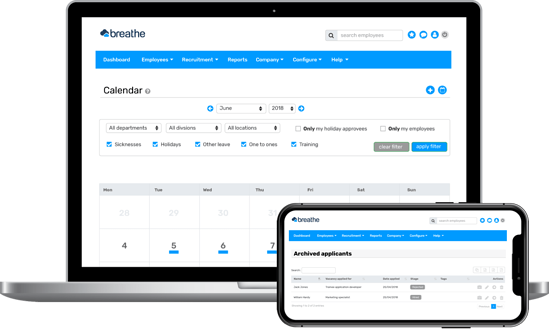 Effortless people admin
Breathe is the smart way to manage your HR – with all the tools you need to support your business, together in one place. No more hours lost to menial tasks.
With your new super easy-to-use HR admin platform, you can safely access your staff holiday planner, view and download employee documents, and manage your appraisals and 1-2-1s – wherever you are. And there's always support on hand to help you get the most out of your new system.
Data Protection and HR issues can be costly
Under the new General Data Protection Regulation (GDPR) the fines for non-compliance and data protection breaches are between 2%-4% of turnover or up to €10 – 20 million.
These figures are intimidating to say the least, but for small businesses and schools they could have devastating consequences.
At Evolution HR Services Ltd we specialise in working with small businesses and schools by offering advice and support on HR and Data Protection.
Whether you need support with disciplinary procedures, writing policies and handbooks, or you need a Data Protection Officer to help you become compliant with the GDPR; we can help you and your management team.